e-proCAT 8.0 is now available!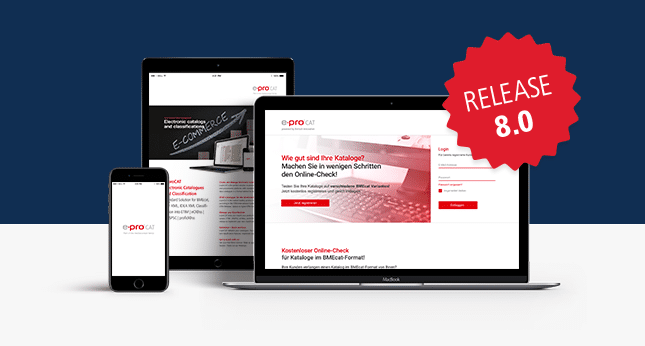 We are excited to announce our latest release: e-proCAT 8.0.
The main new features are:
Export "All article data" now optionally with catalog structure incl. the individual product group levels.
SOVA list 2021
Classified characteristics from different imports can now be combined
Next expansion stage of mediacockpit CON
Batch functionalities now possible from expansion stage GO – via customizing
New batch command – mix BMEcat
Catalog checks and catalog counters can now be created and edited by the user
ARGE export now with EMDG variant
Function to change true/false characteristic values
Filter in classification dialog – double click on column header returns element
Optional – discard non-XML characters when importing from CSV
You can download e-proCAT 8.0 here.
We wish you much success with the e-proCAT Release 8.0.
News with similar content
Congratulations to our partner FO Zürisee on their new web presence. Learn more here!
e-proCAT 8.0 is availabe for you. Download the software update now!