e-proCAT 9.0 is available now!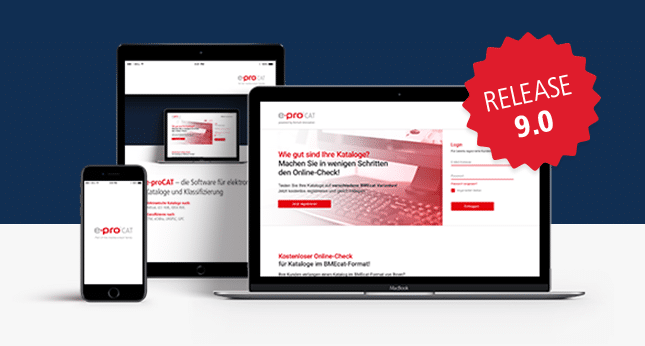 We are happy to announce the e-proCAT 9.0 software release.
The main new features are:
Reforming in the field of language-dependent classification systems
SOVA list 2022
New module ETIM MC Modeling Class (now copy inclusive characteristic values)
ETIM International Guideline 5.0 incl. conversion from 4.0 and improved handling
csv and specifications.csv (SHK DQR derivations). Export now available from any derivative
ECLASS-12 DE/EN can now be imported and classified afterwards
DATANORM 5 format can now be generated from e-proCAT
The DPB Data Management_Building Products format can now be generated from e-proCAT
Additionally, we have fixed minor bugs.
You can download e-proCAT 9.0 here.
We wish you much success with the e-proCAT Release 9.0.
News with similar content
Webcast: Wednesday, December 07th, 2022 at 11 CET. The topic: ETIM 9.0 - release change with e-proCAT
Webcast: Wednesday, July 13th, 2022 at 11 CET. The topic: ETIM Modelling Classes & Building Information Modeling (BIM) with e-proCAT
Webcast: Wednesday, November 16th, 2022 at 11 CET. The topic: Create and Manage BMEcat catalogs